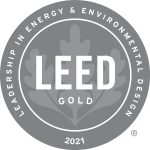 Azrieli Town is a high-end office tower located in the center of Tel Aviv, Israel. 
The building's design includes external fins minimizing the solar radiation that enters the building's spaces. 
The building includes over 57,000 m2 of office space available for tenants spread out over 40 floors. 
Azrieli Town was awarded LEED Gold in January 2021 following the completion of construction.
Alfa completed the LEED certification to a higher rating than was initially expected. 
Key tenants include WeWork, Samsung, FBC & Co, and PwC. 
Architects: Moshe Tzur
Azrieli Town is LEED Gold® 2021 awarded
LEED® BD+C: Core and Shell